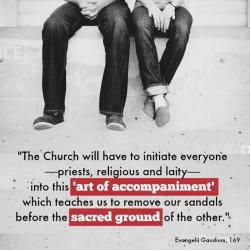 During World Youth Day 2013, Pope Francis issued a challenge to today's church:
"[W]e need a church capable of walking at people's side, of doing more than simply listening to them; a church that accompanies them on their journey; a church able to make sense of the 'night' contained in the flight of so many of our brothers and sisters from Jerusalem; a church that realizes that the reasons why people leave also contain reasons why they can eventually return.

But we need to know how to interpret, with courage, the larger picture. Jesus warmed the hearts of the disciples of Emmaus.

It is important to devise and ensure a suitable formation, one which will provide persons able to step into the night without being overcome by the darkness and losing their bearings; able to listen to people's dreams without being seduced and to share their disappointments without losing hope and becoming bitter; able to sympathize with the brokenness of others without losing their own strength and identity."