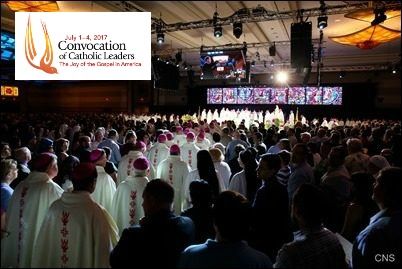 3 Takeaways from the Convocation of Catholic Leaders
3 members of the Burning Hearts Disciples team joined almost 3,500 participants at the USCCB's 2017 Convocation of Catholic Leaders. The goal of the gathering was to assemble Catholic leaders for a strategic conversation, under the leadership of the bishops, on forming missionary disciples to animate the Church and to engage the culture.
Called by the bishops, the historic convocation will find more than 3,000 Catholic leaders — bishops, clergy, religious and laypeople — meeting July 1-4 in Orlando, Florida, to focus on how the pope's 2013 apostolic exhortation, "Evangelii Gaudium" ("The Joy of the Gospel"), applies in the United States.
Over the next few weeks we'll be sharing some of our personal insights from the Convocation, the impact this national strategic conversation will have on our apostolate's mission, and our hope for the long-term fruits that will result in the American Catholic Church.
UPDATE: Watch the videos of the Plenary Sessions at USCCB Video On Demand.
---
Takeaway #1: Unity As the Body of Christ
Immediately upon arriving at the Convocation, it was clear that the first day's theme of "unity" was going to be more than just a buzzword. 3,500 bishops, clergy, religious and laity, including five of the six residential cardinals in the country - featuring delegations from more than 80 percent of the dioceses in the county and all 50 states - were gathered with one unified purpose: to explore The Joy of the Gospel and how to live it out in the Church in the United States.
It was very profound and moving to be in one space with all those fellow Catholic Disciples listening to our Apostolic leaders, and having them listen to us. As we prayed and celebrated the opening Mass, I felt Jesus' love for us and our love for him and each other throughout the room. I found myself thinking,
This is what it means to BE the Body of Christ; although we don't live it perfectly, we are all the same body of Christ.