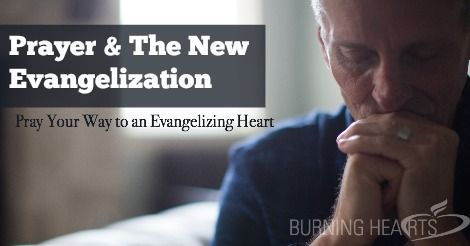 At it's core, the New Evangelization has everything to do with this question: Do I have a personal relationship with Jesus Christ?
If we want to be intentional disciples who live the New Evanglization in our parishes, schools, workplaces, and homes, we must begin by deepening our own relationships with God. A central tenet of Pope Benedict XVI's teaching on the New Evangelization focused on the centrality of prayer in this mission. Benedict XVI understands prayer as holding a two-fold significance in evangelization:
Those sharing the faith must first be re-evangelized ourselves, growing in habits of prayer and contemplation amidst life's busyness; and


Among those with whom we share the faith, prayer constitutes a deeply personal and essential means by which one encounters God.
Benedict XVI writes:
"Praying actualizes and deepens our communion with God. Our prayer can and should arise above all from our heart, from our needs, our hopes, our joys, our sufferings, from our shame over sin, from our gratitude from the good. It can and should be a wholly personal prayer." [1]
The role of prayer in the New Evangelization is central for the Pope Emeritus, and it must be for as well.