Accompaniment in Action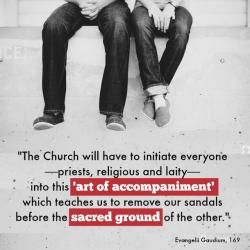 Helping you put the art of accompaniment into practice is at the core of our mission. The resources below provide encouragement, practical tools, and discussions to help disciples in your community more fruitfully invite others to ongoing conversion and into relationship with Jesus & His Church.
The Art Accompaniment: More than a Buzzword
The "art of accompaniment" and is so much more than simply a way of being pastoral to those whose beliefs and behavior are at odds with the Gospel. In the hands and heart of a missionary disciple, accompaniment is a tool for walking with others as they journey into deeper relationship with Christ and the truth of the His Church.
In accompanying others, the disciple possesses a love for others and the Church by being welcoming and hospitable. The disciple must be willing to walk with others, share the Good News, and help others grow in their faith and live in solidarity with others. (Living as Missionary Disciples)
Practicing the Art of Accompaniment Resources