Burning Hearts Disciples is assisting the Diocese of Green Bay in continuing to deepening our friendship with Jesus Christ through Regional Discipleship Formation Seminars. These one-day seminars are designed to help key parish volunteer leaders and parish staff understand the challenges in forming disciples of Jesus Christ and the connection between evangelization, catechesis, parish life, and mission within the discipleship process.
No Discover Jesus Seminars are currently scheduled.
If you would like to schedule a Discover Jesus Seminar for your parish, vicariate, or parish cluster, contact us today!
Schedule a Discover Jesus Seminar Today!
Discover Jesus invites all to encounter Jesus Christ and the abundant mercy, hope and love he has for each one of us. Jesus invites us, just as he invites all people to "come and see" (Jn. 1:39) Him and His Body, the Catholic Church. We are focused on awakening hearts and developing an intimate relationship with Jesus Christ through a renewed encounter with the Gospel, by sharing our stories of faith and growing in prayer.
Many parish leaders find that attending a single seminar or retreat day is only able to provide a brief overview of some of the key elements to discipleship and evangelization. Spending time reflecting, praying, and learning both individually and as a group will help ensure you take the concepts from theories and apply them in practice in your own life and in your parish.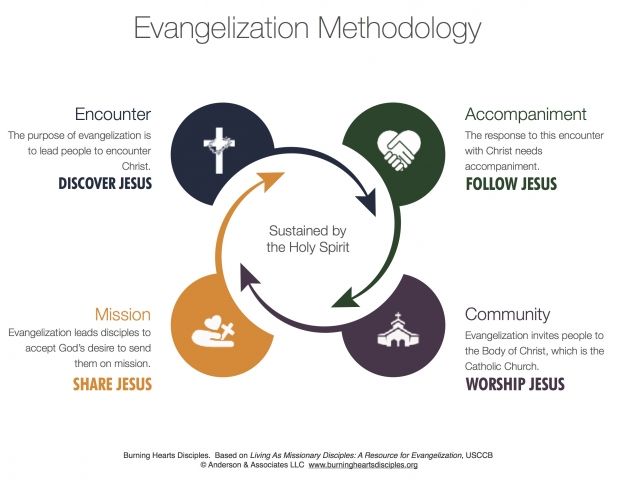 In 2014, the Diocese of Green Bay launched a process into the new evangelization called "Disciples on the Way". The goal of "Disciples on the Way" is the renewal of each person and in turn, our parishes through discovering Jesus, following Jesus, worshipping Jesus and sharing Jesus. Bishop Ricken adapted the USCCB methodology using his own language for application in the Diocese of Green Bay.
The Encounter, Accompaniment, Community, Mission methodology is outlined in the USCCB document Living as Missionary Disciples: A Resource for Evangelization. Additional resources can also be found in the New Evangelization Library on the website for the Diocese of Green Bay.
If you missed the Discover Jesus Seminar or are looking to continue the growth as a disciples you experienced during that day, we would be happy to come put on a seminar or follow up retreat for your parish leadership.