Huge thank you to Amy Brooks at Prayer, Wine & Chocolate for this list of tips for staying focused in prayer - and for permission to reblog it as part of our How Do You Pray? series.
I have never been tested for ADHD; however, I am certain, I would pass that test with flying colors.
So, I write this post with great empathy for those who have trouble staying focused during prayer time.
(Note: Our Executive Director, Kristin, has been tested and is being treated for ADHD, so we totally understand the sometimes challenging task of staying focused. You can also check out: Overcoming Distractions & Anxieties in Prayer.)
Here are some tricks I use to help me be more focused:
1. Listen to a praise song that really grabs you emotionally.
Two of my favorites are "Lord I Need You" by Matt Maher and "I Can Only Imagine" by Mercy Me.
2. Pray a short prayer.
St. Therese' of Liseux described prayer as a "surge of the heart". Whatever you are thinking about, whatever is on your heart – that can be turned into prayer by just calling out to Our Lord and asking him,
"Dear God, this is really on my heart today. Please help . . . . (fill in what you have been thinking about and worried about)."
Then be polite and say thank you for listening! Keep it simple! Breathe deep, close your eyes and say "Jesus".His Holy Name is a prayer. Here are other short prayers (and you can print them out too): 11 Quick, but Powerful, Prayers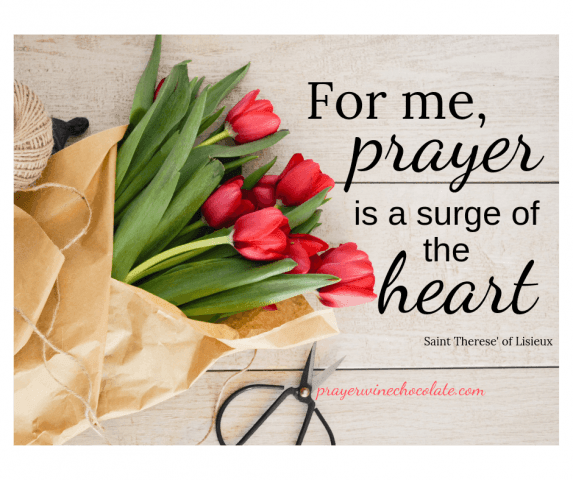 3. Pick up a pen and notebook.
One of the main reasons why I love to prayer journal is because it helps me truly focus on talking to God. I write him a letter. I copy a prayer and read it over – often more than once. I find myself thanking Our Lord for all his blessings and pouring my heart out to him. I spend more time writing than I would saying the prayers out loud. I devote that time to him and the physical contact with the pen and paper make me feel more in touch with our Creator.

(Read more about prayer journaling from two of my posts: Benefits of Prayer Journaling and Prayer Journal Prompts: Praying for People)
4. Choose surroundings that will draw your attention to Our Father, Son and Holy Spirit.
A Eucharistic Adoration Chapel or a nature center. Or if you want to pray right where you are, close your eyes. A fellow blogger and great friend of mine just wrote a post about going to Adoration – you can read that here: Your Spirit Needs to Rest in the Presence of Jesus

I also wrote about how we really do receive some special gifts when we spend an hour with Jesus in this post: Five Presents You Can Open in His Presence