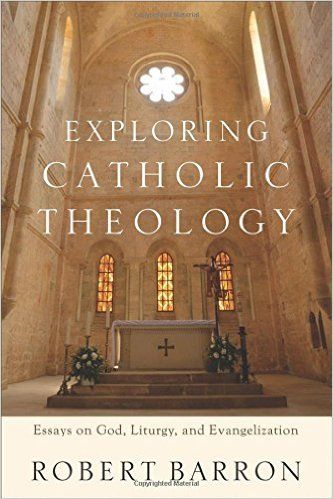 I love Bishop-Elect Barron and always find him to be a wonderful source of inspiration. This book does not disappoint, but it is definitely a "slow read."
Take, for example, the first chapter: Augustine's Questions: Why Augustinian Theology of God Matters Today. This chapter briefly describes St Augustine's intellectual journey as he struggles to define the meaning of the word God. After a lifetime of questioning St Augustine leaves us with, in Barron's words, "the conviction that ultimate reality is the Trinitarian God revealed in the life, death and resurrection of Jesus Christ". As Father Barron states, this understanding of ultimate reality not only defines us as Christians but is also essential to the intellectual heritage of Catholicism and, therefore, an essential truth for those of us who wish to share this heritage with others.
I confess, I had to read this chapter twice before I could fully grasp what Barron was trying to say, but the effort was well worth it. The subsequent chapters are just as as intellectually challenging, but have helped to broaden my understanding of the Catholic faith.
Barron makes accessible the deep and hard-hitting insights of Catholic intellectual powerhouses such as St. Augustine, St. Thomas Aquinas, St. Irenaus, Cardinal Dulles, Blessed John Henry Newman, Bernard Lonergan, St. John Paul II, Pope Benedict XVI, Karl Rahner, and more. Striking a balance between academic rigor and approachability, the book covers issues of ongoing interest for today's church: who God is, how to rightly worship him, and how his followers engage contemporary culture.
Topics include:
the doctrine of God,
Catholic theology & philosophy,
and evangelizing the culture.
I would recommend this book for those looking for a broad overview of the rich tradition of Catholic theological and philosophical thought. It will also be very helpful in providing a strong foundation for those concerned about the so-called "new atheism."
Featured Author:
Bishop-elect Robert Barron is the founder of Word on Fire Catholic Ministries and the host of CATHOLICISM, a groundbreaking, award-winning documentary about the Catholic Faith. On July 21, 2015, Pope Francis announced his appointment as auxiliary bishop of the Archdiocese of Los Angeles.
Bishop-elect Barron is a #1 Amazon bestselling author and has published numerous books, essays, and articles on theology and the spiritual life. He has also appeared on several media outlets including NBC, PBS, FOX News, CNN, and EWTN.
---
Other Recommended Resources by Bishop Robert Barron: